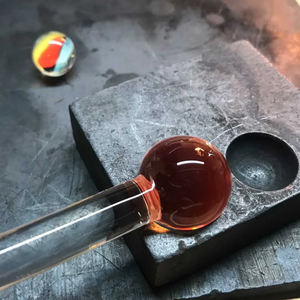 Loretta Studios & Gallery
Marbles (borosilicate) - 3hr class
Regular price
$109.00
$0.00
Unit price
per
Tuesday evenings
6:00 pm to 9:00 pm
or
Saturday mornings
10:00 am to 1:00 pm
Cost: $145.00 (plus HST)
Instructor: Drew Rankin of Drewski Glass
Immerse yourself in the beauty of these spherical glass forms! Students will learn about surface treatments and also how to create colourful glass inclusions which are magnified through the lens created by a layer of clear encasement. The teacher will present a basic overview of borosilicate glasswork, including some colours, the use of puntils (glass handles), cold seals versus hot seals, as well as how to work with a marble mold and gravity to form a sphere.
Tools and materials are provided for the class. 
Beginner Boro or some previous hot glass experience would be beneficial.
Due to the nature of glass, students will have to return to pick up their finished pieces after they have been annealed.
Please email us if you have any questions. 
Class full? Join our waitlist here.